Transportation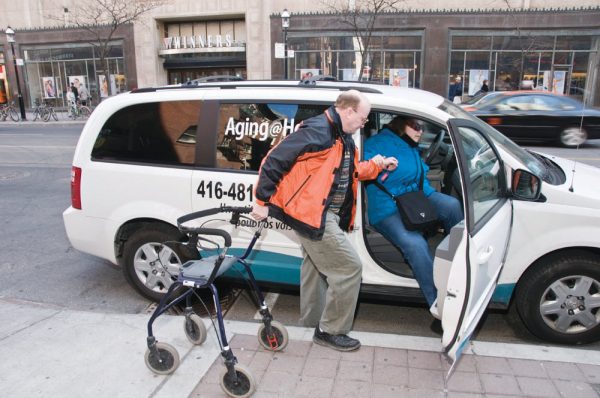 SPRINT Senior Care offers accessible transportation services that respond to seniors' individualized needs, are safe and affordable, and help clients to continue to reside at home while participating in the community.  We provide these services through the Toronto Ride partnership. SPRINT Senior Care is the lead agency of Toronto Ride. 
For an affordable fee, our Transportation program supplies rides to medical and dental appointments, rehabilitation and day programs, as well as to the grocery store, the bank, the hairdresser, and to social activities. In addition, our Transportation Department offers affordable rides to all of our programs and events.
To find out more information, or to schedule a ride, call 416-481-6411. Additional information about our transportation services can also be accessed by emailing info@sprintseniorcare.org.

SPRINT Senior Care is the lead agency of Toronto Ride. Launched in 1998, Toronto Ride is a collaborative partnership of 11 not-for-profit, community support service agencies that provide door-to-door, assisted transportation to seniors 55+ and adults with disabilities who are not eligible for Wheel-Trans. Its transportation services help clients live independently by offering equitable access to health care, Adult Day Programs, and appointments and activities in the Toronto area.
COVID-19 Update:
To keep clients and drivers safe, we have implemented the following changes to our program:
We only transport one client at a time; you can still bring one escort.

We have installed a plastic shield between the front and back seats.

We cannot currently honour "front seat only" requests.
All drivers wear masks while helping you to and from the vehicle.
Clients/caregivers will also be required to wear a mask.
All clients/caregivers entering the vehicle must first clean their hands with the sanitizer provided by the driver.
Do you need a ride to your vaccination appointment?
We are offering rides to seniors who need assistance getting to and from their vaccination appointments.
If you would like to book a ride to a vaccine clinic, please fill out our Vaccination Appointment Transportation Request form or call 416-481-5250. 
Toronto Ride has limited capacity. Rides are only for those who have absolutely no other way of getting to their appointment.
Due to high demand, we require 48 hours' notice for booking. If you request a ride with less than 48 hours' notice, we will be unable to respond to your inquiry. 
Trips can only be booked up to 30 days in advance. Please do not request trips for your second vaccination appointment at this time.
Prioritization will be for seniors, adults with disabilities, and people who are immunocompromised.
We can only take clients to locations within the boundaries of the City of Toronto. 
Trips will be scheduled on a first-come, first-served basis.
Clients can bring their walker but need to be able to enter and exit the vehicle with minimal assistance.
Return trips will be scheduled for one hour after the appointment time.
Phones are only answered Monday to Friday 9:00 a.m. to 5:00 p.m.
Click here to see a map of our partners catchment areas.