House Calls vaccine program for homebound seniors featured on CBC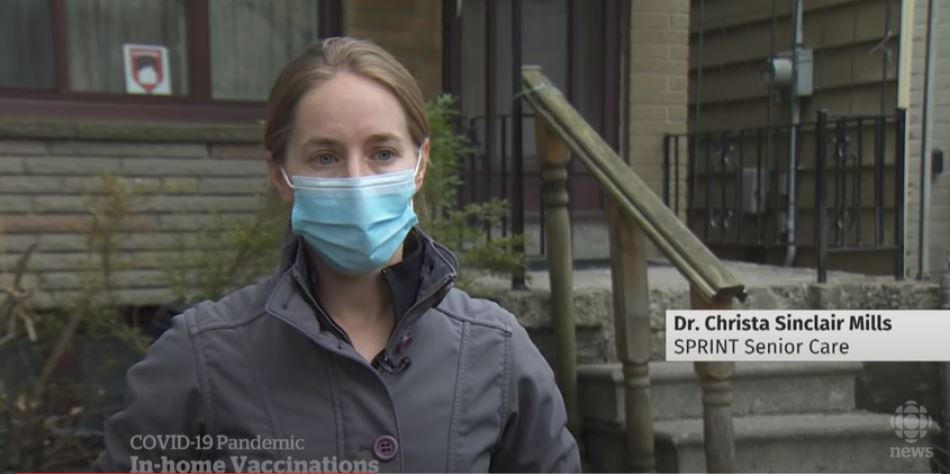 Dr. Christa Sinclair Mills of the House Calls team was interviewed on CBC's The National on April 1 to discuss the importance of vaccinating frail seniors at home.
The SPRINT Senior Care/VHA Home HealthCare House Calls team recently launched its mobile COVID-19 vaccination pilot program for seniors. This program is supported by UHN and Toronto Paramedic Services.
So far, the team has vaccinated more than 300 homebound seniors who face physical, cognitive, and social frailties who are unable to attend a typical vaccination clinic.  
"This is not a matter of convenience. If we don't go to them, they don't get the care," Dr. Sinclair Mills told the CBC.
Right now, hundreds of thousands of eligible seniors in Ontario haven't yet received their COVID-19 vaccination. This is partially due to the fact that many seniors are homebound.
"These are patients at a high risk of complications from COVID. This is a life-saving intervention for these patients," Dr. Sinclair Mills said.
Mobile vaccination clinics are not easy to operate, but are necessary, she added.
"Just because it's hard, doesn't mean it is not worth doing."
Click here to view the clip from CBC's The National – April 1, 2021
See below for more photos from the House Calls mobile vaccination pilot program: